Benefits of Using Epoxy Flooring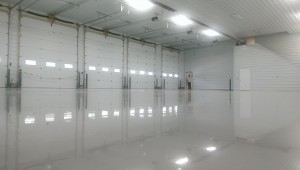 Whether you are the building contractor, the owner of the building or the designer, special attention should be paid to the type of flooring and floor coverings used. Not only should they be beautiful and aesthetically pleasing, but they should be durable enough to handle the day to day functions of the business. Epoxy flooring offers resiliency, durability and aesthetics in a convenient floor coating that is budget-friendly.
Top Reasons to Choose Epoxy
Concrete flooring is a flooring mainstay in many buildings including chemical plants, warehouses and residential garages and decks. But concrete isn't the most appealing to the eyes. It holds stains, obtains superficial cracks and comes in a standard drab color. Epoxy flooring is a resin-based formula that is applied to the concrete to improve its weight bearing capacity, static control, impact resistance and protection from abrasions and punctures. It holds up well to the usual day to day mistakes such as dropped materials and heavy objects.
It can also be used to hide imperfections in the concrete or as an alternative to resurfacing or demolition.
Here are some reasons why you should consider epoxy flooring for your commercial or residential space:
Create beautiful flooring designs with the addition of decorative agents or paints

It is an extraordinarily strong material

Obtain strength and beauty at a cheaper cost

Add shine and gloss to boring concrete for a regal look

Durable enough to last for years to come without recoating

Naturally oil and grease resistant

Easy to clean

Quickly sticks to even newly cured concrete

Get a nice gloss finish without worrying about slipping

Maintain the gloss finish with regular cleaning

Resistant to stains even from dropped harmful chemicals

Keeps heavy equipment and appliances in place with excellent grip
Ensure your floors stay beautiful longer and uphold the rigors of life by using epoxy flooring. The cost savings and long-term durability make epoxy a go-to coating for commercial and residential flooring.